The research article by Roman B. Balagula, Liudvikas Subačius, Paweł Prystawko, and Irmantas Kašalynas is published in Journal of Applied Physics, AIP Publishing. The work entitled "Electro-optical modulation of terahertz beam by drifting space-charge domains in n-GaN epilayers" investigates the transmission modulation of THz field in GaN semiconductor as a response to space-charge domains under near-to-breakdown electrical field conditions.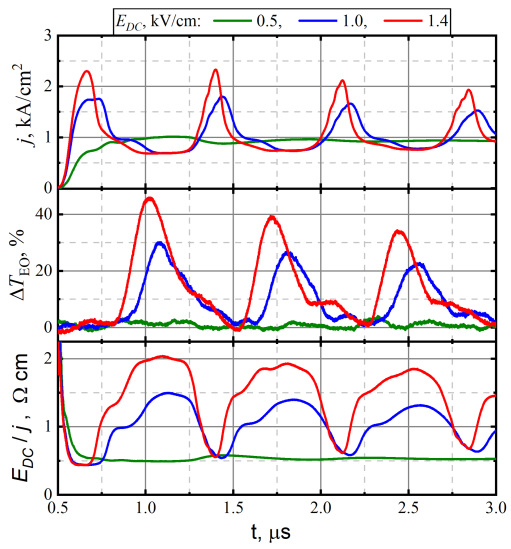 The open access research article is available through https://doi.org/10.1063/5.0152661
The work was supported by the Research Council of Lithuania through the "Hybrid plasmonic components for THz range (T-HP)" Project (Grant No. DOTSUT-184) funded by the European Regional Development Fund according to the supported activity "Research Projects Implemented by World-class Researcher Groups" under the Measure No. 01.2.2-LMT-K-718-03-0096. The work at Warsaw was supported by the National Center for Research and Development (Grant No. TECHMATSTRATEG-III/0003/2019/EnerGaN).